steve cuden
Beating Hollywood
Tips for Creating Unforgettable Screenplays
What do The Graduate, The Shawshank Redemption, and It's a Wonderful Life have in common? Aren't their stories, characters, and images forever imprinted on your mind? Can you immediately recall how you felt when watching them? Telling a good story is one thing, but how does one even begin to create an unforgettable film?
Beating Hollywood examines, piece by piece, how writers, directors, and producers put together extraordinary movies by breaking down 40 classics by their narrative beats, plot points, and movements to uncover how the magic was made.
More than simply a look at what others have done, this book also serves as a comprehensive guide to how you, too, can craft a memorable script. From Beating Hollywood's 150 invaluable tips, you'll learn how to:
Master the fundamentals
Create unforgettable characters, dialogue, and scenes
Build solid story structure
Plot a course
Break your story into the essential eight chapters
Develop a unique voice
Think like a businessperson, not an artist
Beating Hollywood also breaks down 40 classic movies, from Casablanca to The Godfather to Star Wars, to reveal how they made their mark on cinema history—and indelibly captivated the hearts and minds of audiences.
An invaluable resource for anyone determined to put in the time and effort, Beating Hollywood hands you the key ingredients to creating your own batch of movie magic.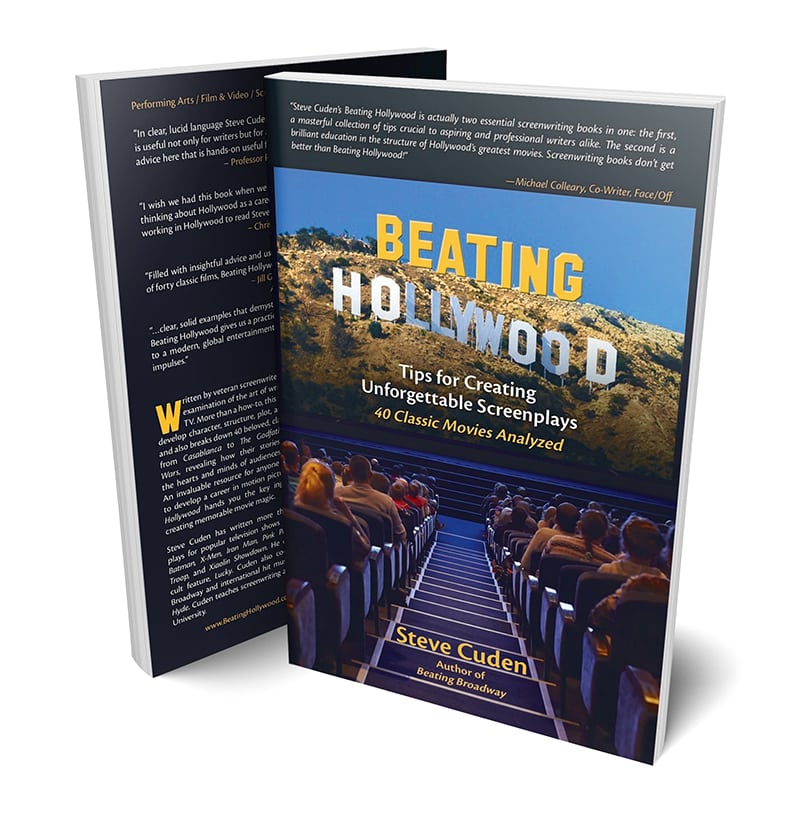 40 Movies Analyzed in Beating Hollywood
Annie Hall
Being There
Blade Runner
Blazing Saddles
The Bridge on the River Kwai
Butch Cassidy and the Sundance Kid
Casablanca
Chinatown
Citizen Kane
Die Hard
Dirty Harry
Dr. Strangelove
The French Connection
The General
The Godfather
The Godfather: Part II
Goldfinger
The Graduate
High Noon
It's a Wonderful Life
Jaws
Lawrence of Arabia
North by Northwest
Psycho
Raiders of the Lost Ark
Raising Arizona
Rocky
The Shawshank Redemption
The Silence of the Lambs
Singin' in the Rain
Some Like It Hot
Star Wars
Sunset Boulevard
The Terminator
Thelma and Louise
Tootsie
Unforgiven
Up
What's Up, Doc?
The Wizard of Oz
"Why Beating Hollywood will help you succeed as a screenwriter"
"I never thought of Hollywood as an adversary, but after 25 years of working in Hollywood I believe Steve Cuden is right: one must strategize on how to 'beat Hollywood' and Steve's book is a great first step. Steve has created a well-written, accurate, practical plan for how to succeed in Hollywood. I wish we had it when we did Project Greenlight. I recommend every person thinking about Hollywood as a career, interested in how it works as a fan, or is currently working in Hollywood to read Steve's book."
"Steve Cuden's Beating Hollywood is actually two essential screenwriting books in one: the first, a masterful collection of tips crucial to aspiring and professional writers alike. The second is a brilliant education in the structure of Hollywood's greatest movies. Screenwriting books don't get better than Beating Hollywood!"
"Beating Hollywood is first of all an engaging read. In clear, lucid language Steve Cuden provides a fresh vantage on dramatic writing that is useful not only for writers but for all souls who care about creative expression. There is advice here that is hands-on useful for writers working in any platform. At the same time Cuden posits keen insights into the nature of the human condition, especially the nexus between writer and audience."
"We also recommend the latest how-to tome by Steve (Beating Broadway) Cuden (co-creator of Jekyll & Hyde, The Musical and scripter of the edgy frightcom Lucky) Beating Hollywood: Tips for Creating Unforgettable Screenplays(Cudwerks Productions), which provides both practical advice and keen analyses of 40 classic movies, including Dr. Strangelove, Psycho, and The Terminator."
"If you want to write studio movies, you'll benefit from the clear, solid examples in this book that demystify the patterns and fundamentals of popular films. Steve Cuden's excellent Beating Hollywood gives us a practical look at how to create a screenplay that both sells to a modern, global entertainment economy and also represents our original artistic impulses."
"There are few things more daunting than writing a screenplay and Steve Cuden understands this, having worked in the trenches as well as the classroom. His book, Beating Hollywood, is as complete an overview of the process as you'll find, written with tremendous clarity, wisdom, and just plain common sense. Mr. Cuden not only answers all the important questions for the beginning screenwriter, but is generous with observations he's learned along the way. On top of that he breaks down the structure of forty major movies and tosses that in as a bonus. He almost makes it look easy."
"This book is so comprehensive, so well organized, so accessible and useful for writers at any stage of their career, I want to quote the whole damn thing as an example of how good it is. Cuden gets to the heart of what makes scenes and stories click and brings his readers right in there with him. This is one gigantically valuable asset to the screenwriting community."
"In Beating Hollywood Steve Cuden uses his considerable professional experience to distill the bewildering process of constructing a screen story into a bushelful of clear, concise and above all useful nuggets – and that's just the first half of the book. The second half meticulously strips down forty of the greatest films ever made to their basic structural components to reveal how those rules apply to each and every one of them. The result is a book that rewards anyone who loves the movies with new insights and understanding. If you're an aspiring screenwriter, read Beating Hollywood and skip a year of film school. If you're a lover of cinema, read it and be the smartest guy in the room at your next film society gathering. And even if you're a seasoned professional writer, read it and discover a slew of things you never knew, plus a lot more that you intuitively understood but had never been able to put into words until Steve did it for you."
"I've looked at a lot of "how-to" books on screenwriting during fifty years of teaching film. Far too often, the writer makes up "rules" that are just clichés (usually that somebody else made up). Perhaps even worse, the writer comes across with a sure-fire formula that will, in what is usually a VERY short book, explain all there is to know about screenwriting, which the writer or his publisher claims is the last book on the subject the buyer will ever need. Steve Cuden knows better, and doesn't try to hide from his readers the fact that mastering the art of screenwriting is like every other art or activity worth doing—that it takes years of commitment, and hard work to really understand what you're doing, because creating unforgettable screenplays is damn difficult work. Steve has demonstrated by his own writing and through this book that he understands the complexities of screenwriting, and his analysis of what makes certain films unforgettable is enlightening. This book is, above all, useful."
"With Beating Hollywood Steve Cuden has provided screenwriting students the wonderful gift he gave playwrights in Beating Broadway. Cuden's text is a masterpiece of insight delivered with the ease and wit of a conversation with good friend, who just happens to be a life-long craftsman at the top of his game. A must-read for aspiring screenwriters, as well as fans of film everywhere."
"Talk about the tools of the trade! After absorbing this amazing book, you may never watch a movie the same way again—and you will certainly be inspired to write one of your own."
"Beating Hollywood takes a whole shelf of screenwriting books and condenses them down to easy to digest pieces of screenwriting wisdom, which he calls "tips." But not only does it have a hundred and fifty "tips" for better screenwriting, it has beatsheets for forty of the best movies ever made. These alone are worth the price of the book."
"If asked to recommend just one section of Steve Cuden's informative and inspiring Beating Hollywood, I would respond, 'Part Two – Tell Us a Story.' Because story is the backbone of any film and a great cinematic story can literally change the world. With his usual, straightforward language and clearly drawn examples, Steve Cuden shows us not so much how to defeat the infinite-headed hydra of Tinsel Town, but how to cooperate with the elusive beast which, if captured, can grant the gold of substance and meaning to hungry audiences everywhere."
"A grab-bag of useful, inspiring screenwriting tips that is integrated with the structural analysis of dozens of popular movies. Beginners and advanced screenwriters alike will benefit from Cuden's perspective on the craft."
"As with Beating Broadway, Steve Cuden's book on how to write hits for Broadway, his new book, Beating Hollywood, is a must for those wanting to learn how Hollywood works and how to put together that future award-winning script. I wish he had written it when I first started writing."
"Having written hundreds of sitcoms and animation, I find Steve Cuden's insight in writing for the screen refreshing. I wish I'd read this page-turner before I wrote Lucky— maybe it would've made a dollar. I recommend Steve's book to anyone who wants a career in screenwriting."
"Beating Hollywood is one stop shopping for EVERYTHING you need to know about how to write and sell screenplays. There's more knowledge packed in this one book than you could learn from 100 classes. If you want to learn screenwriting, you could spend $120,000 dollars on graduate school or just buy Steve Cuden's book."
"With keen insight gained from years of education and experience, Steve has managed to thoroughly examine every important issue a writer must consider when sitting down at a blank screen and transforming a mere idea into that full-fledged living, breathing thing we call a 'screenplay.' This book will serve both the new and experienced screenwriter with topics ranging from character development and dialogue to subtext and sequencing. Reading it is like getting an MFA in screenwriting but without the steep price tag or grueling commute."
"Steve Cuden's Beating Hollywood is a treasure trove of practical tools to make your screenplay stand out. Steve's attention to detail in helping writers craft believable and memorable characters is spot on. I especially appreciate this book's easy to understand advice in building solid story structure and character. A must read for anyone serious about honing the craft of screenwriting! Bravo!"
"Insightful! Encouraging! Fantastic! I just loved, loved, LOVED this book! Where was this 20 years ago? Would have saved me a LOT of mistakes and heartbreaks in my career!"
"Steve Cuden has assembled an impressive array of important, crucial reminders and resources for all working or aspiring screenwriters. As a screenwriting coach, it amazes me that writers proceed to write their first script without listening to the sage advice of a veteran writer like Steve Cuden. I really, really wish more writers would read this book before writing their screenplays; it would save so many headaches. I couldn't recommend it more highly. Get this book before you write your screenplay!"
"A great screenwriting resource that covers every aspect of the process. Filled with insightful advice and useful examples, along with a comprehensive analysis of forty classic films, Beating Hollywood will become your go-to guide."
"Steve Cuden has yet again proven himself to be a rare talent. Beating Hollywood is nothing shy of brilliant! In a disorienting maze of an industry, this book helps veterans and those new to Hollywood navigate the sometimes tumultuous high seas of the biz-ness. Stupendous read and resource!"
"Steve Cuden is a consummate professional who has actually faced that blank page before typing 'fade in.' His advice is the kind of practical, thoughtful, and intelligent help that ONLY comes from real writing experience. This is a book you will want to read and reread."
"Steve Cuden's book, Beating Hollywood, is an invaluable tool for narrative storytellers and documentary filmmakers alike.  Documentarians are often faced with the challenge of distilling overwhelming amounts of footage into a digestible narrative.  Identification of iconic characters in a documentary narrative is crucial to crafting a compelling story.  All the same narrative rules apply to the documentary story, and the filmmaker has all the same goals as fiction—to tell an engaging story.  Steve Cuden has demystified this process, and after reading his book I will never approach a documentary script the same way again."
 "The craft of screenwriting is an elusive talent, which doesn't always settle well on everyone's shoulders—many times even the most gifted of prose writers failed miserably when they attempted to pen screenplays, while many others refused to make the attempt at all. To take stories and distill them down well to barebones dialogue and still maintain a visual impact is a gift, and with this work Steve Cuden provides a fantastic schematic for those who wish to see if they have what it takes to acquire that gift. While none of the great screenplays are alike, this work shows that they all share that quality of great visual storytelling in which any aspiring screenwriter can find inspiration. This is a valuable critical work."
"Steve Cuden has fought the fights to get his work to the stage and the screen. He knows how to tell a story well and what you need to do to protect that story and to get that story made. He's already revealed hard-won truths in his book Beating Broadway and now he does the same for working in Hollywood. Beating Hollywood is an invaluable resource."
"Steve Cuden's new book Beating Hollywood is a must read text for any wanna-be screenwriter or film buff. It not only offers 150 entertaining tips about the art of the screenplay but also detailed analysis of 40 classic films showing how those tips can be applied. He is one the finest writers of books about writing simply because he so loves doing it."
 "With "Beating Hollywood," Steve Cuden has done it again. Any creative endeavor takes a combination of know-how, guts, and luck. One cannot be taught how to be gutsy or how to be lucky, but one can be taught know-how. This book does it. A must-read for aspiring screenwriters, as well as seasoned professionals."